Emerging Leaders
Emerging Leaders is a day long experience for students who are interested in developing their leadership capacity and learning more about the Social Change Model (SCM) of Leadership Development. SCM at it's core, approaches leadership as a purposeful, collaborative, values-based process that results in positive social change.
The Social Change Model sees leadership as purposeful, collaborative, and a values-driven process. Titles or positions are not needed in order to be a leader. Leaders work to improve the groups and communities they are part of. Through this approach, anyone can be a leader, because "leaders" are those who want to make a difference.
This kind of collaborative process means that groups must have trust, which requires that group members act in ways that are consistent with their own beliefs and values as well as the group's goals.
Emerging Leaders will be held September 16th, 2023. For more information and to register visit: tinyurl.com/umbcEL23.
Leadership Blueprint
Leadership Blueprint is about getting more out of, rather than cramming more into, UMBC. This 5 week program helps first year, sophomore, and new transfer students craft a more fulfilling college experience by sharing practical tools and ideas and relating them back to their leadership and involvement plans for UMBC. Topics include exploring your interests, finding your place at UMBC, designing plans for your leadership and involvement experience, and so much more. This seminar incorporates small group discussion, in-class activities, field exercises, and personal reflection.
There will be three cohorts available for fall 2023. Cohorts will be meeting once a week for 5 consecutive weeks.
To participate, you must be available to attend all five sessions of your section of Leadership Blueprint. For more information and to register, visit: tinyurl.com/umbcLB2023.
Leadershops
The Leadershops series consists of 1 hour workshops that focus on various student centered leadership-related topics facilitated by Campus Life staff and student leaders. This program aims to contribute to the leadership development and ongoing learning of UMBC undergraduate students.
The spring 2024 Leadershops series topics will be announced soon! Sessions will be offered for students to register through Campus Life myUMBC page.
Here are virtual Leadershops readily available to you in video-format, created by Campus Life's Leadership Peer Facilitators:
WorkSMARTer, Not Harder
Juggling more than classes? Join us as we explore the strategies of an essential leadership tool for all college students: time management.
Leading from the Sidelines
We all know the tale as-old-as-time: "all leaders are extroverts". Join us as we focus on what introverted leadership looks like and the influence It holds.
Leading with Emotions
Can emotions and leadership go together? ​Join us as we identify the importance of self awareness and managing emotions​.
LeadingOrgs Retreat
Are you a student organization officer (President, Vice President, Secretary, Treasurer, Event Planner, etc.)? Campus Life invites you to jumpstart your student organization by participating in LeadingOrgs, a fantastic, all-day leadership retreat designed specifically to meet the needs of student organization officers. This program is typically offered to student organization officers in the very beginning of the academic year (fall semesters). During LeadingOrgs, officers from various student organizations receive training in several aspects of leadership and teamwork, learn more about the resources available to student organizations, and make new and lasting connections with other student leaders. Any questions about this program? Contact Tori Ciorra at theasley@umbc.edu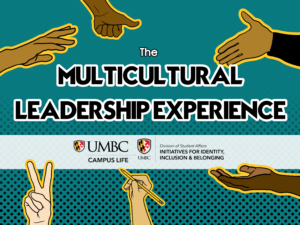 Multicultural Leadership Experience
The Multicultural Leadership Experience (MLE) is a collaboration between Campus Life and the Initiatives for Identity, Inclusion & Belonging (i3b). This cohort program is being held over the course of the academic year. The purpose of MLE is to provide a space for students and student leaders who identify with culturally, racially and ethnically diverse or marginalized backgrounds to discover their own capacity to lead, while also promoting a better understanding of their experiences, challenges, and outcomes in navigating their own collegiate careers. The Multicultural Leadership Experience (MLE) will:
Engage up to 20 undergraduate and graduate students in a leadership learning cohort with in-person and asynchronous content;
Enhancing participants' leader identity and leadership capacity using an identity-conscious lens and student development theories;

Increasing participants' awareness of their personal abilities, identity development, and intersections that shape their story through authenticity, self-reflection, and cultural humility;

Exploring the role they play in developing relationships while building intra/intercultural connections;
And capitalizing on their unique differences, specifically in relation to their racial, ethnic, national, and other salient identity social groups
Based on the belief that leadership is learned through experience, education, and reflection– MLE will focus on leadership development through a multicultural lens, create a dynamic virtual learning environment, and invite UMBC students to learn from each other (and themselves) through the curriculum.
For more information and to register for MLE 2023 – 2024, visit: tinyurl.com/umbcMLE2324 
Have questions about this program? Contact MLE Co-Chairs:
Beatriz Gutiérrez-Malagón at bgutierrez@umbc.edu, Angelina Jenkins at arjenkin@umbc.edu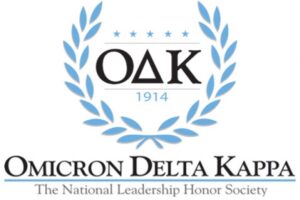 Omicron Delta Kappa (OΔK)
OΔK is a prestigious national leadership honor society founded in 1914. OΔK recognizes juniors, seniors and graduate students at UMBC who have demonstrated excellence across five major areas of collegiate life: scholarship; athletics; social, service, religious and governance activities; mass media and journalism; and creative and performing arts. Applications are available towards the middle of the spring semester. Learn more about OΔK. For questions contact: Beatriz Gutiérrez-Malagón, bgutierrez@umbc.edu (Circle Advisor)