Emerging Leaders
Emerging Leaders is a day long experience for students who are interested in developing their leadership capacity and learning more about the Social Change Model (SCM) of Leadership Development. SCM at it's core, approaches leadership as a purposeful, collaborative, values-based process that results in positive social change.
The Social Change Model sees leadership as purposeful, collaborative, and a values-driven process. Titles or positions are not needed in order to be a leader. Leaders work to improve the groups and communities they are part of. Through this approach, anyone can be a leader, because "leaders" are those who want to make a difference. This kind of collaborative process means that groups must have trust, which requires that group members act in ways that are consistent with their own beliefs and values as well as the group's goals.
Emerging Leaders will be held on Saturday, October 23rd, 2021 from 10:30am – 3:30pm. Registration closes on Friday, October 1st at 12:00pm. Register at tinyurl.com/emergingleaders21
Leadership Blueprint
Leadership Blueprint is about getting more out of, rather than cramming more into, UMBC. This 5 week program helps first year, sophomore, and new transfer students craft a more fulfilling college experience by sharing practical tools and ideas and relating them back to their leadership and involvement plans for UMBC. Topics include exploring your interests, finding your place at UMBC, designing plans for your leadership and involvement experience, and so much more. This seminar incorporates small group discussion, in-class activities, field exercises, and personal reflection.
LeadingOrgs Retreat
Are you a student organization officer (President, Vice President, Secretary, Treasurer, Event Planner, etc.)? Campus Life invites you to jumpstart your student organization by participating in LeadingOrgs, a fantastic, all-day leadership retreat designed specifically to meet the needs of student organization officers. During LeadingOrgs, officers from various student organizations receive training in several aspects of leadership and teamwork, learn more about the resources available to student organizations, and make new and lasting connections with other student leaders. Any questions about this program? Contact Courtney Campbell at cocamp@umbc.edu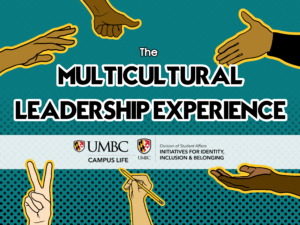 Multicultural Leadership Experience (Cohort Program)
The Multicultural Leadership Experience (MLE) is a collaboration between Campus Life and the Initiatives for Identity, Inclusion & Belonging (i3b) to be held over the course of five meetings throughout the spring 2022 semester. The purpose of MLE is to provide a space for students and student leaders who identify with culturally, racially and ethnically diverse or marginalized backgrounds to discover their own capacity to lead, while also promoting a better understanding of their experiences, challenges, and outcomes in navigating their own collegiate careers.
The Multicultural Leadership Experience (MLE) will:
Engage up to 20 undergraduate students in a leadership learning cohort with synchronous and asynchronous content;
Enhance participants' leader identity and leadership capacity;
And increase participants awareness of personal abilities and identity development through authenticity, self-reflection, the role they play in developing relationships, and capitalizing on difference
Based on the belief that leadership is learned through experience, education, and reflection– MLE will focus on leadership development through a multicultural lens, create a dynamic virtual learning environment, and invite UMBC students to learn with and from UMBC faculty, staff, and alumni. Registration for the MLE 2022 Cohort will open in January 2022. To register, visit: tinyurl.com/mle2022
Have questions about this program? Contact MLE Planning Committee Co-Chairs:
Beatriz Gutiérrez-Malagón, bgutierrez@umbc.edu or Carlos Turcios, carlos6@umbc.edu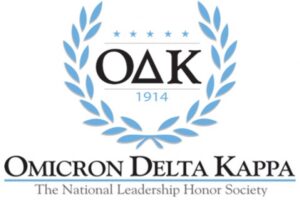 Omicron Delta Kappa (OΔK)
OΔK is a prestigious national leadership honor society founded in 1914. OΔK recognizes juniors, seniors and graduate students at UMBC who have demonstrated excellence across five major areas of collegiate life: scholarship; athletics; social, service, religious and governance activities; mass media and journalism; and creative and performing arts. Applications are available towards the middle of the spring semester. Learn more about OΔK. For questions contact Circle Advisors: Beatriz Gutiérrez-Malagón, bgutierrez@umbc.edu or Candace Martínez-Doane, cmartinez@umbc.edu